View all Upcoming Events at Raptor Ranch, located less than 30 minutes from the Grand Canyon National Park.
Read more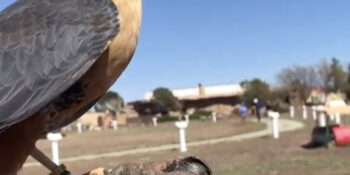 FLY BY FRIDAYS - is a series of weekly Raptor videos, presented by Raptor Ranch. Check back for updates weekly!
A Group Event at Raptor Ranch is perfect for any type of group: Corporate Outings, Family Reunions, Club Meetings, and more. Let us help you …
Read more
More information about Grand Canyon Glamping at Raptor Ranch coming soon
Read more
Raptor Ranch
-Campground
There's Something WILD in the Air!
Exploring the Bedrock Park at Raptor Ranch, Williams, AZ https://youtu.be/2yKdZscL3Zs
Dale
"This is a MUST STOP on the way to or from the Grand Canyon!!! Awesome experience to see falcons in action and learn about their behaviors. I even got to hold one! The owners are so friendly and knowledgeable. Great Flintstones fun for kids and grown-ups alike. Food is good, too!"
Ronnie
"I loved going back to Bedrock, thankfully they've kept most of the Flintstones stuff..I just relived my childhood..." #BedRockCity
Kim
If you love birds and falconry, you'll love this place! Daily opportunities to see falcons in flight, eating a tasty treat and learning about their behaviors, you'll even have the opportunity to hold a falcon! Owls, hawks, ravens are also able to be observed and enjoyed.
Diane
The proximity to the south rim of the Grand Canyon is a big plus. The proximity to the highway is a bit of a negative. The RV Park is level with some full hookups. Many are water and electric only, but there is a dump station right there. Bedrock City is right there for fun for kids of all ages.
Connie
We recently visited Raptor Ranch and had the most amazing time learning about falconry! This attraction is sure to be a resounding success ~ very educational, up-close-and-personal experience! We will definitely visit again every time we are in the Grand Canyon area.
Joanne
"Thank you for posting Stormy's photos! So great to watch his fluffy feathers turning into mature features...."
Krista
"I remember that place from back in 1975 when I was about 12 years old on our way to the Grand Canyon"
Richard
"I just visited raptor ranch today. The ranch and the people were awesome. There were fun exibits, cool birds, and yes i went down the big slide.Weee! We had a great time. Thank you."
Ben
"Yabba-dabba-doo!! It's Friday & it's 5 o'clock somewhere! Whenever you go visit or ride to the Grand Canyon stop in and visit Bedrock City. Who else grew up with the Flinstones? It is under new ownership and named Raptor Ranch. They have some bird exhibits too. It was a 5.00 entry fee and a quick 15 minute stop."
Imperial Valley Motorcycle Riders and Events
"We were there several years ago when it was still just the Flintstones. Can't wait to stop by again and see the changes! So excited and grateful that you left the bedrock part!"
Jessicca
"We enjoyed our visit and the program with the Harris Hawk. And was excited to be able to help and watch you with the training of one of the other Harris Hawks chasing mechanical prey."
Marjo
It's a really nice place to take the kids! Also grownups loved it too! The people are very nice and now sell food. Awesome place to visit!
Letty
What a wonderful stop! The Flintstones village so standing after multiple decades, friendly staff and ownership! me and my boys had a blast running around and playing! Well worth the stop!!! There are also big plans to bring in a Raptor exhibit and add even more. My dad's family came here in the 60's or early 70's and I've heard about it for years. They saw the pictures and it brought back great memories. Thank you!
Ray
So much fun love this place and we will be back!
Tracy
It's a beautiful small RV park. We recommend it.
Angel
Stayed this past weekend! Very quite and well taken care. From the first phone call from Bridgett to heading out today very happy with our stay! Would highly recommend Raptor Ranch! We will definitely be back!
Angie
This was such a unique and amazing experience!! If you get the chance to go - do not miss out!
Tiffany
The people are amazing, the show was so awesome! This is a cool place to visit, an experience everyone can enjoy! if you are anywhere near there I would say drive the extra way to check it out, it's worth it!
Jennie
We stayed 4 days at the RV park. Really enjoyed the raptor show and Bedrock City. We got to hold a raptor and so did Jack the gnome. If we are in the area again we will definitely stay here.
Greg
A sweet place to visit. The Flintstones buildings and other related features are unique, nostalgic and just fun. The raptors and show are great. Its really worth the small price for entry. A nice gift shop too. So glad we discovered it on our drive.
Jill
Cute little Bedrock town and awesome bird show. Hidden gem on your way to the grand canyon. Friendly staff
Christine
Awesome little place! Owners are the best and nicest people around!
Matt
We passed by and my son (who's 38) saw the park got really excited cause he remembered the Pee Wee Herman movie. we stopped for about 1 hour. It was fun. great stop to rest if you have young children
Eva
There's Something WILD in the Air!
Watch raptors vigorously pursue mechanical quarry that demonstrate these birds of preys' natural hunting ability. READ MORE
---
Bedrock City
Yabba Dabba Doo! Come visit the home of the Flintstones! READ MORE
---
Camping & NEW Glamping!
Raptor Ranch Campground is an RV Park and Campground located Just 24 Miles from The South Rim Entrance of the Grand Canyon, and we now have Glamping Tent Lodges! Live Raptor Flying Demonstrations, Falconry Courses, Convenience Store with Snacks, Food, Gifts, Fun and More! BOOK NOW!
---
MORE EVENTS
Raptor Ranch 
- There's Something WILD  in the Air!
Raptor Ranch is a Natural Attraction, just 24 miles the South Rim entrance of the Grand Canyon. LIVE Flight Demontrations Daily! (conditions permitting)
A Bird of Prey park providing an understanding of Raptors, Falconry & Wildlife conservation with unique educational displays & demonstrations.
We also have many acres of amenities featuring: Camping - RV, Trailer, Car, Tent • Water, Electric, Sewer Hook-ups • Camp Store • Snacks, Drinks, Beer, Ice, etc. • Fire Rings, BBQ / Picnic Area • Laundromat • WiFi Hot Spot • $8 Bedrock City Tours
RAPTOR RANCH STORE HOURS
Sun

8:00-7:00
Mon

8:00-7:00
Tue

8:00-7:00
Wed

8:00-7:00
Thu

8:00-7:00
Fri

8:00-7:00
Sat

8:00-7:00
Raptor Ranch Adventure Park Closes at SUNSET - *Closed Thanksgiving and Christmas.
FRED'S DINER HOURS
Sun

11:00-7:00
Mon

11:00-7:00
Tue

11:00-7:00
Wed

11:00-7:00
Thu

11:00-7:00
Fri

11:00-7:00
Sat

11:00-7:00
Raptor Ranch Adventure Park Closes at SUNSET - *Closed Thanksgiving and Christmas.